Quick, what are three little words that get to any online retailer?
Black. Friday. Weekend.
It's the single biggest sales window of the year, and it kicks off the holiday shopping season.
In 2017, online sales hit a record $7.9 billion.
There's no sign of slowing down – Black Friday shopping numbers have increased every year. By 2018, the average buyer will spend over $1,000 during the sales window.
If you're in ecommerce, you need to be a part of this.
The problem is, you're facing stiff competition.
Your audience is being bombarded by deals, discounts, and offers of all types – and not just from your competitors, but from all sorts of brands
How can you cut through the noise? How can you make your brand's social commerce campaign stand out against all that competition?
The formula is simple:
Capture your audience's attention

Move them towards a clear campaign goal

Make the experience positive, memorable, and shareable.
Of course, that's easier said than done.
That's why we've put together a list of eight killer social commerce campaigns.
If you apply concepts from these examples, you'll run a good campaign this Black Friday.
We've gone a step further, though, and also outlined how you can build on each campaign with the use of a social commerce chatbot.
Campaign A: The Value Offer
1. Best Buy
When you think of Black Friday Deals, Best Buy probably comes to mind.
The big box tech store is known for consistently leading the way with storewide discounts each year during Black Friday Weekend.
Highlights
Best Buy's discounts are attractive for general shoppers. Simply show up at a Best Buy store or visit their website on Black Friday, and you'll probably find a deep discount on a pricey piece of tech.
They do more than just slash prices everywhere though.
Best Buy and several other big-box retailers have turned their Black Friday campaigns into extended sales that run outside of the standard Black Friday to Cyber Monday window.
By publishing a catalog of discounts early in November, Best Buy lets its audience know what they can expect throughout the month – not just on Black Friday weekend.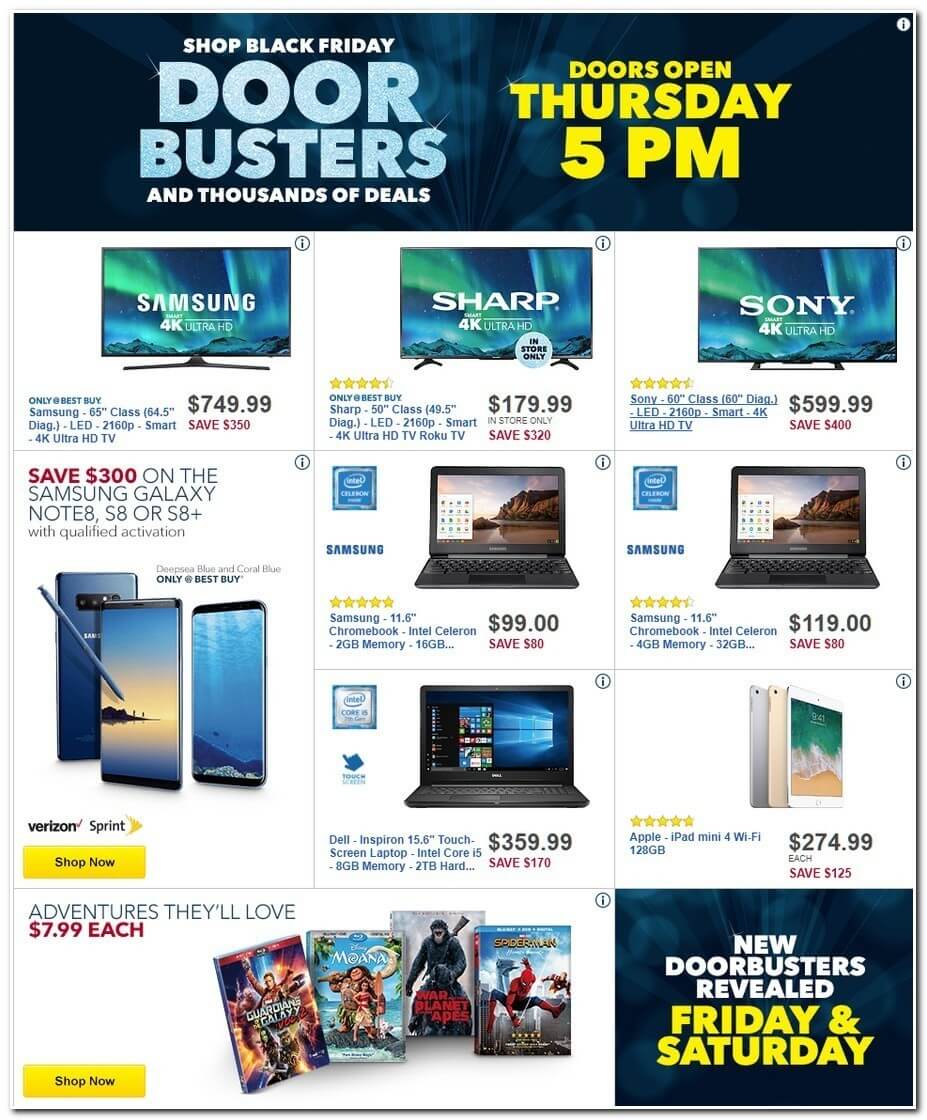 The tech giant then runs a very responsive social media campaign that publishes reminders about specific deals being offered at the time.
It's a simple funnel and it drives massive engagement.
What could be done better
Best Buy doesn't have a flagship product, so it's tough to imagine them focusing their marketing efforts around a single item.
Instead, they could run a series of contests or giveaways that coincide with their discount reminders.
Taking it a step further, Best Buy could set up a chatbot like jumper to manage this type of campaign. (You can read more about contests and jumper here) 
2. Kohl's
Kohl's is a large department store chain found across the US.
In 2014, Kohl's ran a wildly successful Black Friday campaign that took the traditional model used by Best Buy and went way beyond it.
Highlights
Kohl's used a two-step strategy.
First, they generated social engagement by asking trivia questions.
Second, they reached out to responders in a highly personal manner – sort of like helpful shopping assistants.
This resulted in some staggering numbers, including a 400% jump in social media engagement from the previous year and a 234% shift in positive sentiment.
How did they accomplish such big numbers?
Kohl's leveraged its leading position with popular brands and timely product lines, like Disney's Frozen.
It also built its campaign as a contest with a branded hashtag, #KohlsSweeps. They encouraged responders to answer the trivia questions and would follow up with sales links.
What could be done better
Social commerce has evolved significantly since Kohl's ran this campaign in 2014.
The idea of engaging an audience in a contest and then following up with personal attention towards a sale – that was a relatively new concept.
However, the concept of using customer engagement to further reach on social media is still key to social commerce success today.
If Kohl's were to run this campaign again, they could massively improve the sales by leveraging direct social media sales solutions.
Something like buyable posts on Instagram, shoppable Pins, or ideally a cross-platform solution like jumper would be a great way to sell directly through those high engagement posts.
jumper is designed to respond to hashtag triggers, taking interested responders directly to a managed checkout sequence.
Campaign B: The Viral Offer
3. MeUndies
MeUndies is an underwear company with a strong, creative social media presence.
For Black Friday 2016, MeUndies made waves with its Facebook Live event.
Highlights
MeUndies focused their efforts on a two-hour window in the middle of Black Friday. They used the Facebook event to dish out exclusive deals and discounts.
Instead of running a generic weekend campaign or asking their audience to stick around for a whole-day event, MeUndies set out a much more finite chunk of time.
Black Friday activity online is concentrated in the mornings and evenings, tapering off in the middle of the day.
MeUndies designed their campaign to run at an off-peak time (3 pm – 5 pm PST) when they faced lower competition from other Black Friday sales.
Additionally, the use of Facebook Live video was a fresh break from the standard coupon and catalog images we're used to seeing from big-box retailers.
What could be done better
In the future, MeUndies could drive engagement with live video events and channel their audience through a chabot-managed sales link.
Using a social commerce chatbot like jumper would keep MeUndies' funnel running smoothly and also allow the brand to create scarcity and deadlines. If a particular discount is expired, simply remove the relevant link.
4. Chubbies
Chubbies is an offbeat apparel brand with humor running through everything it does, from its clothing to its marketing campaigns.
Every year, Chubbies runs a Cyber Monday (or, "Thighber" Monday, in their words) campaign that's up there with the best of them.
Highlights
The brand runs an hourly product giveaway; 12 products over 12 hours, 8 am – 8 pm PST.
The key to Chubbies' success is the quality of the products they give away. These aren't the throwaway, $1 add-on "gifts" you may see at a bigger retailer. Instead, Chubbies selects products that their audience would gladly pay for.
The hourly giveaway and premium products means that they'll have a highly engaged audience on Cyber Monday, throughout the day. Remember, it's one thing to stand out for a moment – but Chubbies stays front-and-center all day.
In addition to great products during its sale, they have a dedicated landing page for people interested in their big sales event.
It's also worth noting that their videos are short – often under a minute – and very shareable. Their social content isn't sales-y, but always does a great job of highlighting attractive products in a fun way.
What could be done better
Chubbies has a big (425,000 followers), engaged audience on Instagram.
The hourly product feature is practically built for Instagram and a social commerce chatbot like jumper.
Chubbies could set up an all-day hashtag contest, encouraging people to engage each time they wanted to get one of the 12 gifts.
All they'd have to do is change the link in their bio every hour to point their buyers to the right checkout page, and let jumper handle the sale.
5. Cards Against Humanity
Cards Against Humanity is an outlandish card game that's definitely not PG-13 – they describe themselves as "a party game for horrible people"..
Highlights
Like Chubbies, it's a brand that's known for going big on Black Friday Weekend. Instead of hourly gifts, though, Cards Against Humanity swings for the fences with a prank guaranteed to have people talking.
In past years their pranks have ranged from big fundraising drives to digging a giant hole in the ground and filling it up. One year they just spent the money they raised on themselves, then shared what each staff member bought.
You never really know what you're getting with them…and that's sort of the point. They're consistently wild, and their audience wants to take part in their stunts.    
Here's a list of Cards Against Humanity's annual Black Friday pranks.
What could be done better
Cards Against Humanity rarely posts a true sales pitch on any social channel. It's heavily geared toward engagement and potential virality.
Their annual Black Friday pranks will create a big spike in traffic to their social channels. That means a lot more people to sell to, right?
Staying true to the brand is extremely important, so using a prank as an obvious sales hook is probably the worst thing Cards Against Humanity could do.
A sales-enabled chatbot offers a great, unobtrusive solution. By simply including a jumper link in their bio, across social media channels, Cards Against Humanity can quietly, comfortably allow its audience to buy a flagship card set, for example.
In addition to more sales, jumper would help the brand collect buyer contact info. This would allow Cards Against Humanity to build future engagement campaigns. After all, everyone always seems up for their antics!
Campaign C: The Identity Play
6. REI
REI is an outdoor apparel and gear brand with a strong social media following.
Highlights:
Like several brands on this list, REI sticks to a tried and true formula. Each year, it repeats the same type of campaign.
In REI's case, it's the anti-campaign. Their #optoutside message is geared to get people outside and active. They go so far as to shut down sales while everyone else is going into sales overdrive.
It's certainly countercurrent and stands out from the sales-centric noise of other brands. More importantly, "opt outside" is a highly relevant message for its audience – dedicated outdoors people.
The hashtag #optoutside is a great way to go past suggesting and instead encourages engagement. REI's audience responds in a big way to the weekend's call to action, and the brand is met with a deluge of hashtag replies. It's a user-generated content (UGC) gold mine.
What they could do better
In its current form, REI's #optoutside campaign drives a lot of basic engagement.
Could they take the message further and ask for one step beyond hashtag replies?
The natural next step would be to turn the hashtag campaign into a contest or giveaway. Creating an attractive incentive like a product giveaway would likely drive even more engagement, better UGC, and more sales (while the online store is back open.
As we've covered in previous articles, jumper can handle contests and giveaways. It's literally built for hashtag responsiveness.
Currently, REI's Instagram bio link takes visitors to a Like2Buy page, where they can browse a wide range of products featured in posts. Like any ecommerce store, it's a good way to get people looking at many products.
The thing is, it doesn't have anything to do with the #optoutside message.
With jumper, REI could run a laser-focused hashtag campaign and take what they're already doing to another level, without deviating from their brand identity and Black Friday seasonal message.
7. Patagonia
Like REI, Patagonia is an outdoors apparel and gear brand. They're also known for effective Black Friday campaigns focused on engagement rather than sales.
Highlights
Patagonia doesn't shy away from politics or a strong identity.
The brand's mission is to "build the best product, cause no unnecessary harm, use business to inspire and implement solutions to the environmental crisis".
In the lead up to Black Friday 2016, Patagonia announced that they would donate 100% of all sales to charity.
The promotion grabbed a lot of attention and triggered a big response. Instead of an expected $3.5 million in sales, Patagonia raised $10 million. Even more impressively, 70% of online sales came from first-time buyers.
What they could do better:
Like REI, Patagonia's social bio links aren't very specific. At best, they take users to general ecommerce platforms.
If Patagonia wanted to double down on their political messages during Black Friday, they could introduce campaigns that were more closely aligned to their core values.
In the lead up to the US midterm election – an important moment for environmental policy – Patagonia's social posts are peppered with reminders to vote. The brand is also shutting down stores during election day in order to enable its employees to vote.
Although it's two weeks away from Black Friday, Patagonia could probably leverage the sales season to push its audience to act out its (and their) values by voting.
It doesn't have to be purely political acts either.
Patagonia can encourage its fans to engage in other brand-aligned actions, like recycling used gear.
Either way, the way to take advantage of identity-based engagement like this is to create more focused call to actions on its social media profiles.
With jumper, Patagonia can direct its audience into an automated sequence that supports a specific goal, be it sales or social. Doing good can work wonders for a business – 94% of people would switch to a brand that demonstrates altruism.
With 3.6 million followers on Instagram alone, Patagonia could create highly active contests and giveaways around virtually any product. The key, though, is to create some specificity and scarcity.
8. Modcloth
Modcloth is a fashion and apparel brand serving women of all sizes.
In 2017 Modcloth made waves for a Black Friday blackout coupled with a $5 million donation to a charity dedicated to helping women transitioning back into the workforce.
Highlights
Like REI, Modcloth did the most anti-sales thing possible – shutting their doors for the day. They also created a branded hashtag for their anti-campaign, #blackfridaybreakup.
Modcloth went a level beyond REI and Patagonia, though.
The brand created a hashtag contest linked to the spirit of their charity donation.
Modcloth invited its audience to participate in the campaign by nominating someone giving back to their community, tagging social posts with the branded hashtag, #blackfridaybreakup.
The winning candidate was chosen from the pool of nominees. The prize was up to $4500 from Modcloth to support the winner's project or cause.
Modcloth did a great job tapping into its audience's identity.
The brand aligned an attention-grabbing, socially beneficial action with a similar call to action from its audience.
What it could have done better
Like REI and Patagonia, Modcloth uses a third party app link in its Instagram bio, taking users to a general ecommerce page.
That means that while it runs a focused hashtag contest like #blackfridaybreakup, Modcloth never connects that engagement into a specific sale.
That's particularly relevant in this case, because although Modcloth's Black Friday blackout is only 24 hours long. That means the rest of the weekend and Cyber Monday are still big sales days for the brand.
Modcloth would do well to offer some specificity during the rest of the weekend, or at least on Cyber Monday.
By using jumper, Modcloth could set up a second contest or giveaway, this time around a flagship product line. By doing so, the brand would be offering its audience another chance to engage – this time directly with products.
It's easy to focus on the winners in a contest. What about everyone else, though?
They probably want a second shot – why not give it to them?
It bears repeating that using jumper for contests and giveaways would allow Modcloth to collect valuable audience contact info.
What are you going to do for Black Friday?
Social commerce is exploding, and you have more tools than ever before available to you.
The question is, how will you use them?
In order to build a successful Black Friday campaign, take note of what's already working for the top performing brands. What can you apply to your audience?
Whether it's an extended sales window, hourly product features, or other concepts, there's one common thread to the campaigns we looked at: they could all benefit from social commerce chatbot integration.
The key to your Black Friday social commerce campaign is figuring out how to engage your audience and then keep their attention while walking them through a specific goal. Do that and you'll create a memorable win-win for you and your audience.