If you're anything like most ecommerce marketers you know:
The common belief that your home page and about page are your most trafficked pages is BS (it's actually category and product pages)
A well-optimized product landing page can make a huge difference to sales
But even a good landing page conversion rate is low
And by low, I mean real low. (like 1.5% low).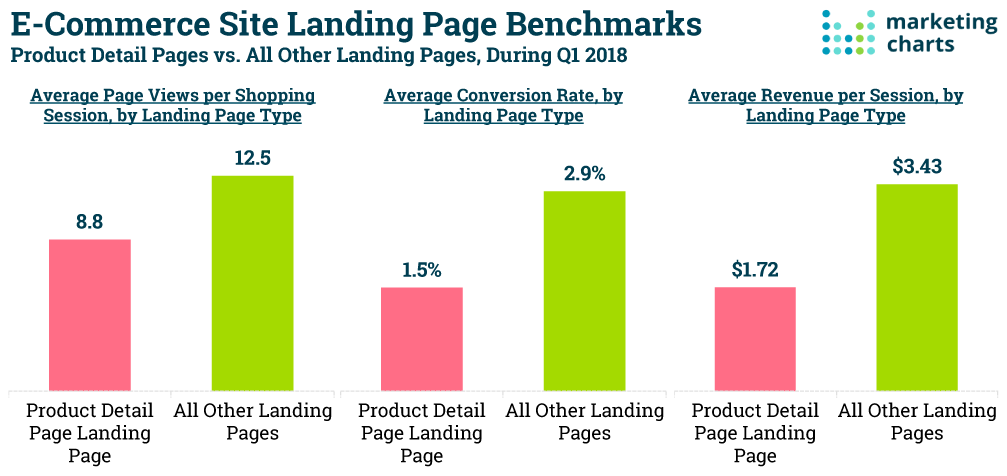 You see, despite getting the most traffic, product landing pages have a conversion rate that's ~50% lower than other pages on your store.
But it doesn't have to be that way.
There is a way for you to break away from the 40% of businesses who feel their landing pages aren't providing good enough ROI.
A method that will help you generate average conversion rates of 20-30% on the pages already generating the majority of your new traffic.
And the best news is, it's an easy set-up you can implement today.
The solution is to add a highly engaging conversational element to those pages.
Introducing conversational landing pages
Modern consumers are impatient.
64% of them expect your brand to communicate with them in real-time.
No 24-hour delays whilst we "get to your email", no being put on hold if they pick up the phone, and they definitely don't want to fill out long forms with their details.
Today's consumer want's immediate answers through conversational channels.
Old style static landing pages simply can't offer what your customers want.
But conversational landing pages work perfectly across all devices and keep the user engaged with immediate answers.
What is a conversational landing page?
Conversational landing pages include a chat widget that allow your customers to converse with a sales assistant (or chatbot) in real-time.
They gamify the laborious task of filling out multiple form fields and options. The two-way chat makes the process of handing over customer details and filtering for their perfect product fun and engaging.
And if you've got the right tool, you can even have the customer checkout and purchase directly within their chat.
Here's how a conversational landing page could look to your users.
The below is the basic product landing page. however, instead of an "add to cart" button there's a simple "buy now" option.
When clicked, a chat is opened that leads the customer through the purchase process.
The above is taken from the default store that's setup when using Jumper.
However, you can embed that same functionality across multiple different web pages and ecommerce platforms (more on that later on – click here to jump ahead).
How do they solve the problems static landing pages face?
Before I get onto how to implement this on your site, I just want to quickly go over the benefits of a conversational landing page one last time.
Streamline the path to checkout
Adding a live chat element to your landing page removes the need for multiple forms and checkout pages. All the necessary information is generated within the live chat.
And this happens in a matter of seconds.
Streamlining the path to checkout in this way reduces the drop off rate at each stage.
This visual representation of a typical sales funnel shows the drop-off at each stage. Imagine the results you could be getting by removing stages, and thus holes, in your funnel.
Solve issues faster for better customer loyalty and retention
With a live chat element, any questions or issues preventing someone from purchasing can be dealt with then and there.
In fact, State of Chatbots 2018 research says that consumers feel chatbots are 35% better at addressing customer issues and questions.
Instead of leaving a question and hoping to get an email response in a few days, these concerns can be dealt with immediately within the chat.
Quickly addressing customers' questions and concerns reduces cart abandonment, which is at around 80% industry-wide and improves loyalty and retention.
The average large-sized e-commerce site can gain a 35.26% increase in conversion rate through better landing page and checkout design. A conversational checkout is the most efficient design available.
Personal and engaging
When someone uses your name in a conversation, it's pretty compelling.
As Dale Carnegie said, "A person's name is to that person, the sweetest, most important sound in any language."
Personalizing your marketing to include specific elements of the user's personal details or browsing habits will increase your marketing's efficiency.
Brands who use personalization in their marketing see an increase in revenue of up to 15%. And there's nothing more personal than a direct conversation.
With live chat (even if it's handled by a bot), you can not only create that personal approach but do so in an incredibly engaging back and forth with the user.
The result of which is a much higher engagement, lower bounce rate, and higher conversions.
Plenty of stores have been benefitting from implementing personalized live chat.
Unique
Despite the effect chatbots have on business, the adoption rate among brands isn't as high as it could be.
Adding a detailed chatbot or live chat function to your site is an easy way to differentiate yourself and offer a better user experience.
The average conversion rate of a landing page is 1.5%. However, a chatbot-based landing page is 5X higher. Now's the time to get on board and take advantage of this novelty factor.
Oh, and the best bit is you can create a single chat sequence and use it in multiple places (with the right tool).
Mobile-optimized
Live chat is optimized for mobile by its very nature. Everyone's used to sending short messages on their mobile phones. It is the natural way to communicate on the medium.
Mobile usage is at an all-time high. 52% of web traffic now comes from mobile devices. So when it comes to conversion optimization, you ignore mobile users at your peril.
How to implement a conversational landing page
Setting up an automated live chat element is easy with Jumper. It genuinely takes less than half an hour to set up.
Below you'll find directions on how to implement a Jumper led automated solution on a general web landing page.
How to add conversational marketing to an existing web landing page
Ok, so you've got a page you want to add a conversational widget to.
I'm assuming that you'll already have setup your product (with relevant hashtag) and have assigned a default chat flow or created your own. .
Once those basics are set up, head to Sales Channels > Chatbox in the dashboard (if you'd prefer to watch a video of this, check this out)
Click the embed chatbox button and you'll see the below page.
Customize the color and greeting text to better fit with your brand.
Then, scroll down to where you have an option to select a hashtag.
When you're there, simply choose the hashtag of the product you want to sell. This will automatically assign the checkout (default or customized) to the chatbox.
Then, copy the code and place it in the <body> </body> tags only on the webpages you want this chatbot to trigger on.
And just like that, you've got a conversational checkout added to your product's page.
A few tips for an effective conversational landing page
It's easy to fall into the trap of adding a conversational element and thinking your job is done.
However, as with any marketing strategy that's simply not going to be enough.
Below, I've included a couple of tips explaining how to get the most out of your conversational landing page.
Remember it's a conversation
If you're running your queries through live-chat this won't be an issue. However, if you've customized your bot responses you've got to remember that this is a conversation.
Try to avoid blunt requests for information. Instead word everything you write as if you were talking over the phone. For example, instead of:
"Fill in your details"
Something like the below would work better.
Great thanks, we need a couple of details from you to complete your purchase.
Test thoroughly
There are a few different tests you're going to want to run before setting this live.
The first is a simple check of spelling, grammar, and typos. Make sure the conversation flows as it should.
The next is a basic QA test. You'll want to ensure that the widget is rendering properly and that your integrations for payment and fulfilment are working.
Finally, you'll want to get a co-worker or friend to run through the process to get a real perspective of the purchase journey.
Once that's done, you'll need to keep an eye on the analytics for each sequence and make iterative improvements to increase sales.
For more on writing chatbot sequences that sell, here's a free guide on writing Facebook Messenger sequences specifically to generate more sales.
Start boosting engagement and conversions today with conversational landing pages
Whatever your thoughts on static vs. conversational landing pages, it can't hurt to try something new. The beauty of a conversational element is it enhances rather than replaces a static landing page.
Hopefully, I've shown that implementing a social commerce element is easier than you would expect. There's no coding and you don't have to master AI to write a chatbot.
In fact, with Jumper, it's super easy to create a social commerce conversation and using the tips above, there's huge potential to boost engagement and conversions.
Ultimately, introducing a social element to your landing page could be the simplest way to achieve the kind of sales you dreamed about when you opened your online store.
The best part is you can get started with Jumper for free, without even putting a credit card on file. To get started using a conversational landing page to boost your sales, sign up for a free account right now.