"Everything is marketing."
It's an overused business mantra, but for brands on Facebook it's a very relevant warning.
The content you publish, the interactions you have with your fans, and the actions you take with other Facebook business pages all affect your business.
Meanwhile, Facebook, along with Google and the other major online platforms, are committed to developing better and better experiences for their users.
It's natural, therefore, that they want content published on their respective platforms to engage valuably and entertain effectively.
In order to sift through all the things being published, the Facebook and Google search algorithms are getting smarter.
If you're simply creating content in order to fill space, you won't get very far.
But if you're creating the right kind of content and then pushing it naturally – organically – you'll see much better results.
The development of social media and analytics tools mean you can reach more people than ever, more effectively than ever.
What is Organic?
Before getting into how to build an organic marketing strategy, let's clarify what we mean by "organic".
Marketing can be split into two broad categories – paid and unpaid.  
In this article, we'll be exploring the unpaid, or organic, marketing strategies you can use to maximize your Facebook reach.
Why are we focusing on Facebook? Well, because it's the biggest, mnost influential social media site around.
According to G2Crowd's 2019 social media study, Facebook is far and away the biggest social network. Instagram brings up second place, but is also owned by Facebook.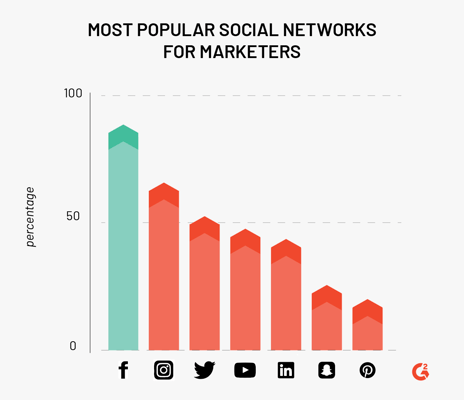 But back to organic reach. What exactly is it? Digital Marketing Institute defines organic reach as;
"the number of people who have seen your post through unpaid distribution".
This number includes both fans and non-fans.
Like paid advertising campaigns, organic marketing strategies should be designed around clear business goals and measured with relevant metrics.
The actions you take on your brand's Facebook page should be part of a cohesive strategy. Your organic marketing is made up of all the non-paid actions you take, from publishing content to encouraging its free distribution.
Remember, Facebook wants genuine interactions on its platform. Anything that is seen as spam, irrelevant, or manipulative will be punished by Facebook's algorithm and buried.
Since 2014, Facebook has cracked down on specific strategies that fall into these categories. Asking readers for likes, comments, and shares is specifically prohibited because users should take those actions unprompted.  
So while it's important to build your organic marketing around content with clear goals, you must respect Facebook's rules and best practices.
Facebook's rules were implemented in order to cut down on low-value content and instead promote material that users genuinely enjoy and find useful. Unsurprisingly, the new rules have affected how content reaches people.
One stat that's been particularly affected is organic reach. As Facebook raises its content standards, many businesses have experienced significant drops in their organic reach.
There's a debate online as to whether organic marketing even matters, given how much Facebook's algorithm has affected reach.
The short answer is that yes, organic market is still very important – it's just got to be done the right way.
This is similar to what happened to the SEO industry when Google started ranking sites based on value and engagement rather than just keywords.
Evolving quality standards aren't just for customers, though – they also benefit your brand.
Think about it. Would you rather have 100,000 Likes from random people who stumbled across your page once, never to return? Or would you prefer to have 1,000 truly engaged, loyal fans who consistently engage with your content?
How to Build Your Organic Marketing Strategy
Content
Before trying to promote content organically, you've got to make sure that you're developing the right content.
As alluded to earlier, search algorithms are getting very good at identifying (and predicting) high performing content.
Both Google and Facebook want their users to be engaged. But what does that mean?
Let's say you publish a post on your Facebook fan page. For the most part, engagement means a reader will take a specific action instead of simply scrolling past a post. That action may be to like, share, or comment.
In order to develop content that achieves those desired effects, your fundamental starting point must be to serve your audience.
Be valuable.
Put your business hat aside for a minute – how can you most genuinely serve your audience? What are their burning questions, pains, or desires?
You can find the answers to these questions with some deep research, or simply ask your audience directly. Facebook fan pages offer several powerful tools, from quizzes and surveys to insightful analytics. Use them!
If you're able to resolve your audience's biggest problems through your content, you'll help develop your brand in several ways.
At the deepest level, you'll build trust with your readers. The more your audience believes in your authenticity, the more they will engage with you and advocate for you.  
On a more practical level, you'll also build a portfolio of articles that will stay relevant for a long time. The better the content, the more people will engage with it, and the longer it will stay active. This leads directly to a greater reach and a more engaged audience.
Style + Format
Once you know what sort of issues your audience wants you to address, it's time to develop a style and format for your content.
Are you going to create lots of quick hits or focus on long-form deep dives? Is your audience after informational how-to guides or more entertaining material?
Remember, you're not limited to text here. In fact, you should make sure that you experiment with more than just text.
If you manage an ecommerce brand or a food business, you'll probably place a premium on high-quality product photography. Images can do wonders for conversion rates. CXL's Peep Laja recommends always using images in posts.
If a picture is worth a thousand words, video might be worth…a lot more.
Video can be a highly effective engagement and conversion tool. According to Wordstream, social video generates 1200% more shares than text and images combined.
Maybe you're a contrarian with a fun brand identity – what would your audience expect from you? Personal videos and Facebook Live can be a great way to develop your reach naturally while staying true to your brand and offering some more intimate access to your audience.
You can even experiment with hashtags, emojis, and GIFs. Alternative visual cues help your post stand out, and can also significantly improve conversion and engagement.
Just remember to keep it consistent. Make sure you maintain a clear voice and style that reflects your brand identity. This means matching your video style to the way your brand comes across in the written word.
Staying with the idea of consistency, it's a good idea to maintain a publishing schedule. You'll quickly learn what type of content performs best, when it works best, and the frequency with which you should be posting.
Engagement
Your marketing strategy doesn't end when you hit publish – in fact, it's just getting started.
Facebook defines Engagement Rate as "the number of people your post reached who then liked, commented, shared, or clicked on your post".
Your content should be designed to elicit those reactions from your audience, without explicitly asking for them. You can do this by building in clear call-to-actions, or CTAs, into your copy or simply creating uniquely valuable or entertaining material.  
Once your content is published, you can encourage more (and better) engagement by focusing on several key elements.
Responsiveness
Social media has changed how brands communicate with their audiences. The relationship used to be very one-sided, as businesses simply spoke "at" potential buyers.
It's now very much a two-way dynamic. Fans can contact brands directly via Facebook business pages. They can ask questions and react to specific pieces of content.
And, critically, fans expect a response.
It's not enough to simply give your audience the chance to react to your brand's content.
You've got to react to their reactions with speed, courtesy, and, when possible, more value.
Your audience has been conditioned to expect quickness. Slow service usually equates to a bad user experience, whether it's page load times or social media responses. The same concept even applies offline – how would you react to slow service at a local store?
On the flip side, have you ever raved about a brand because of really superb service? Think about how that applies to your online responsiveness. If you're able to serve individual fans who engage with your content quickly and memorably, you are increasing the likelihood of getting likes, more comments, and shares.
Chatbots
Chatbots are great tools you can use to address responsiveness.
Unlike human reps, chatbots are available 24 hours a day, 7 days a week, and can respond immediately to a virtually unlimited number of fans.
It's not just their availability and speed that makes them valuable, though.
A well-positioned chatbot will help improve that fundamental element Facebook cares about – user experience.
For example, a sales-enabled chatbot like jumper can improve your buyers' shopping experience by walking them through a quick, efficient sales process without having to leave Facebook.

Other chatbots encourage fun, alternative engagement for users. With Domino's chatbot, for example, users can order pizza by using emojis.
Chatbots can also be used to communicate with buyers post-purchase. By sharing order updates, coupons, or new content alerts, Messenger bots can help drive growth organically, without using paid ads.
Just keep in mind Facebook has quality control rules when it comes to chatbot outreach, and it's important to adhere to the platform's best practices.
Influencers + other pages
What does the competitive space in your niche look like? Does your audience pay attention to particular influencers?
And most importantly, can you find ways to work together?
Local brick-and-mortar businesses have been helping promote each other long before the internet. Brochure exchanges, coupon swaps, and even joint sales events take place all the time in grocery stores, cafes, and at festivals.
Some influencers will charge to promote your product. But in other cases, you may be able to work out a non-paid solution to help both of your businesses.
If you pursue action-for-action deals with influencers, make sure it's going to help you achieve your primary marketing goal.
Are you after views and likes? Or do you want to convert that new found reach directly into sales?
It's important to create CTA's that help you reach that goal and also resonates with a fresh audience. Once you reach an agreement with an influencer or another business, study their content to see what works best for their audience.
Measuring your Organic Marketing Performance
As with paid marketing campaigns, it's important to track and optimize organic strategies.
Here's how you can measure your organic marketing performance using Page Insights:
Open your brand's Facebook fan page

At the top of your page, you should see the Insights tab. Click it.

Now you should be on your Page Summary. Scroll all the way down and you'll see a section title "Your 5 Most Recent Posts". Click the "See All Posts" option at the bottom.

That should take you to a page with an "All Posts Published" section. This is where you can really dig in and analyze your content post-by-post.
Here's a screenshot from a six-week organic marketing campaign run ahead of a restaurant launch. The goal was to test different types of content and menu choices with a small local audience.
In the above image, you'll see a drop-down menu arrow right above the "Engagement" column. This allows you to select different types of engagement to track.
You can choose to track:
Post Clicks / Reactions, Comments & Shares

Reactions / Comments / Shares

Post Hides, Hides of All Posts, Reports of Spam, Unlikes of Page (Negative Feedback)

Engagement Rate
You can quickly get a good idea about what piques this audience's interest. Video and attractive food shots got the most clicks and reactions, while informational posts didn't really accomplish much.
Playing around with the different metrics offers a little more clarity into what you should be looking for.
Let's take a closer look at three posts in particular. The far right-hand column represents engagement rate.
If you were optimizing purely for a high engagement rate, the post from 11/03 looks great, right? At 21%, it outperforms the other two by several factors.
Let's look at the same posts' reaction types instead of rate:
That paints a very different picture, especially when you combine reactions with overall reach. These three posts aren't enough of a sample size to draw definitive conclusions about how this business should engage with its audience – but it's a start.
Facebook Insights is a fantastic tool. You can learn a lot about your audience and also measure your marketing performance from several different angles.  
Mark Twain may have been ahead of his time when he said;
"Most people use statistics the way a drunkard uses a lamp post, more for support than illumination".
Don't be one of those people.
Make sure you've chosen the right goal for your brand, and that you understand how each metric reflects your performance in the pursuit of that goal.
What's your Organic Strategy?
If you're worried about organic marketing becoming irrelevant, you can take some comfort from recent changes to Facebook's measurement tools. The Insights dashboard has been updated to give page managers the ability to track their organic performance more closely.
You're probably already engaged in some form of organic marketing for your business.
If you haven't done so already, now is the time to structure your strategy and test the different tactics and elements outlined in this article.
Remember, just because organic marketing methods are distinct from paid strategies, it doesn't make them incompatible. In fact, you should be actively looking to leverage the two.
Once you've crafted compelling content and developed a killer engagement strategy, you'll have material you can monetize.
Do you have a post that's attracted lots of positive reactions from your audience? Boost it, integrate it into a Facebook Ads campaign, or promote it with a Messenger chatbot like jumper.
Your organic strategies can create a powerful voice and communication base with your audience, and then paid promotions can exponentially improve the same content's performance.
Organic and paid marketing strategies have the same end goal – to get more eyes on your content and to hit that key goal we're all aiming for – selling through your social channels. Don't let labels get in your way – test both and discover the best way to serve your audience.
Facebook is committed to developing better quality controls in order to build better experiences for its users and deeper relationships between brands and their fans. Your brand needs to take advantage of this by committing to building great content and valuable engagement strategies to serve your audience and grow your business.